Italian Symphonic Metal band SECRET RULE release their 3rd studio album today on PRIDE & JOY MUSIC! "The Key To The World" so far has been received well by the press & radio alike.
During the next couple of months, the band around singer Angela Di Vicenzo will heavily support this release live at dates with KOBRA & THE LOTUS, XANDRIA, SERENITY and as headliner plus on festivals. Please find the tour poster and a full list of shows below.
In addition to this, SECRET RULE also has released three video clips – the latest one, for the track "Imaginary World", feat. Aylin Giménez (ex SIRENIA) as guest is found here:
https://youtu.be/KJNgnWwFHsM
SECRET RULE (as support to: THE KOBRA & THE LOTUS)
16.11. I-Roma, Traffic Live Club
17.11. I-Rozzano, Circolo Svolta
18.11. CH-Witzikon, Hall Of Fame
SECRET RULE (headline shows & festivals)
01.12. F-Nancy, Chez Paulette (feat. Aylin Giménez (ex Sirenia)
02.12. F-Paris, Pacific Rock (feat. Aylin Giménez (ex Sirenia)
16.02. BE-Maasmechelen, Jan Hertog
17.02. D-t.b.a.
31.03. UK-Hartford (Hertfordshire), The Rock Den
01.04. UK-Birmingham, Quinphonic Fest
14.07. UK-Manchester, SOS Festival
SECRET RULE (as support for: XANDRIA)
08.12. I-Milano, Legend Club
09.12. I-Mantova, Arci Tom
10.12. D-Munich, Backstage
SECRET RULE (Symphonic Metal Nights Tour 2018: with SERENITY, VISIONS OF ATLANTIS, SLEEPING ROMANCE)
Presented by Sonic Seducer, Spark, Slam, Metal Talk, Lords Of Metal
09.02.A-Wörgl / Komma
10.02.D-Kaiserslautern / Kammgarn
11.02.CH-Wetzikon, Hall Of Fame
12.02.D-Frankfurt / Nachtleben
14.02.UK-London / Underworld
15.02.BE-Vosselaar / Biebob
About the band:
SECRET RULE was formed in the beginning of 2014 with the intention to create a special sound with powerful rhythms and catchy melodies. The band is fronted by the powerful voice of Angela Di Vincenzo (Kyla Moyl), masterminded by lead guitarist Andy Menario (Martiria) who has worked with big names such as Vinny Appice (Black Sabbath, Dio), Jeff Pilson (Dokken, Foreigner), and Carlos Cavazo (Quiet Riot). The line-up is completed by bassist Michele Raspanti (Graal) and drummer Nicola Corrente (Enemynside, Stick it out, Starkiller Sound).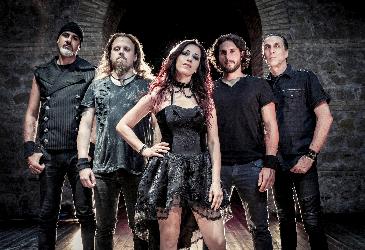 Early in 2017 SECRET RULE supported Blaze Bayley for some gigs and then started to work on new material. The new album "The Key to the World" will be released by Pride & Joy Music on November 10th, 2017. Henrik Klingenberg (Sonata Arctica) and two new guests on this new CD, Henning Basse (Firewind and MaYan) and Ailyn Giménez (ex Sirenia), also appear on this third release of the band.
It again was mixed and mastered by Tue Madsen (Antfarm Studio- Denmark); Fabio D'amore (Serenity) handled the pre-production and Simona Speedy Saccoccia took care of the artwork again. In addition, music videos for the tracks "Twin Flames", "The Song Of The Universe" & "Imaginary World" feat. all three guests were released in advance to the album release.
Pre-order the album here: smarturl.it/secretrulekey
Band:
Official Website: www.secretrule.it
Official Facebook Page: www.facebook.com/secretruleband
Official YT Channel: www.youtube.com/c/SecretRule
Official Twitter Page: www.twitter.com/secret_rule
Official Instagram Page: www.instagram.com/secret_rule_official/
Official Reverbnation Profile: www.reverbnation.com/secretrule
Official Google+ Profile: plus.google.com/+SecretRule
Label:
www.prideandjoy.de